In this CBD review, I am going to be reviewing the entire line of CBD products from a Californian CBD company called UrthLeaf. I am going to kick-off this reviewing by talking a little bit about the company, their branding and product quality. This CBD review is going to be completely honest and impartial.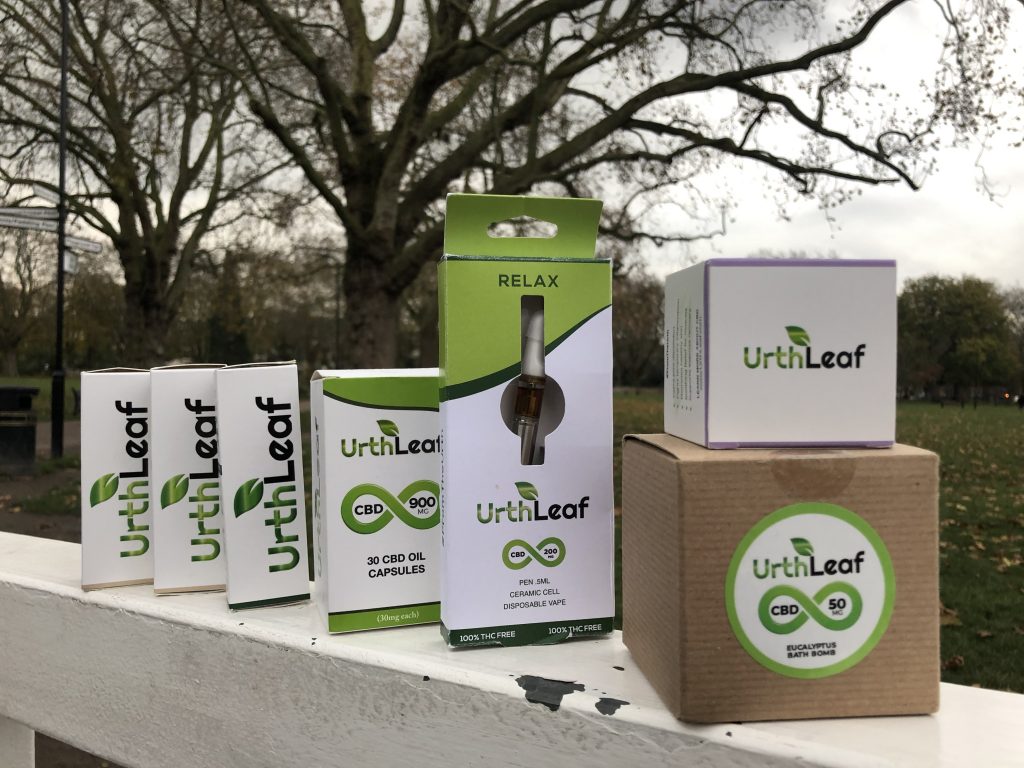 UrthLeaf CBD Products – First Impressions
Firstly, I would like to point out that I have received the products from UrthLeaf within one week: this is how long it took for the parcel to arrive from California (USA) to London (UK). In the grand scheme of things, this is almost twice as fast as it has taken for similar packages to reach me from California. It goes to show that, from the legal point-of-view, there aren't any issues with UrthLeaf CBD products at the border control, which is great news for all the international clients.
The entire package has arrived in a very hipster and professional UrthLeaf branded paper bag but due to the wet weather in London, the bag got wet inside my back pack and it was no longer worthy of being featured in this CBD review. My first impression of UrthLeaf CBD products was the association with nature, earth and soil. This is due to the company's very professional logo that appears to be focussed on green and healthy living and suggests that their products are natural.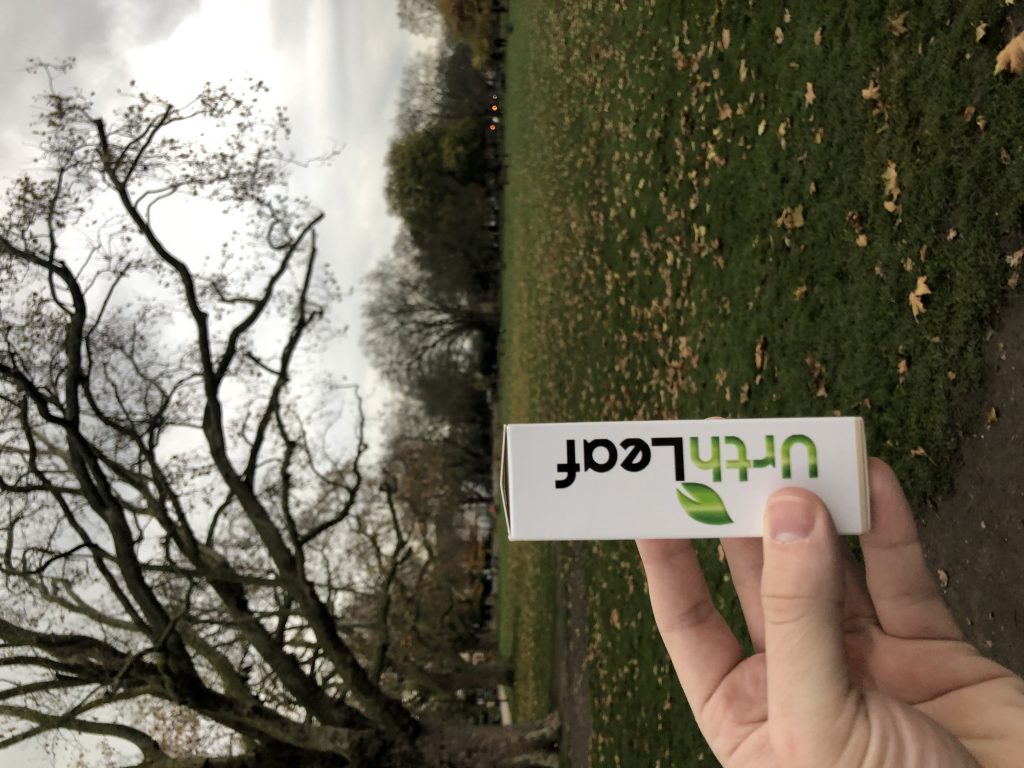 UrthLeaf CBD Products – Packaging
All UrthLeaf CBD products come in very sturdy and quality paper packaging. UrthLeaf CBD bath bomb packaging is the only product that breaks the mould as it comes in a brown box that is more common in the beauty industry. For example, when I walk into some luxury apothecary shops in Brick Lane or Cananry Wharf, bath bombs and soap appear in similar minimalistic and hipster chic packaging. Having reviewed many CBD products in the past, what made UrthLeaf's packaging stand out is the fact that it is very detailed and contains a lot of useful information about each product. In my opinion, this is very helpful from the user's point-of-view.
UrthLeaf CBD Hemp Oil Tincture 300mg , 900mg and 1800mg
I have been trying out UrthLeaf CBD Hemp Oil Tincture in three strengths over the course of one week in different social settings. Having tasted many CBD oil tinctures before, UrthLeaf CBD Hemp Oil Tincture is unflavoured and does not taste like cannabis or hemp. It is very neutral but rich and tastes like delicious Italian oil you would have on your salad at a fancy city restaurant. Whilst I do not mind the taste of Cannabis or Hemp, I do realise that many CBD oil users may have negative connotation associated with Cannabis and Hemp products as CBD is essentially a Cannabis derivative less the THC. Given that UrthLeaf CBD hemp oil tincture has a neutral taste, it is ideal for anyone who would like to benefit from CBD oil without the taste of hemp or cannabis. I consumed UrthLeaf CBD Hemp Oil Tincture orally before I went to bed by putting a few drops under my tongue. Within half an hour, I was feeling all mellowed out, relaxed and focused. There is a misnomer that CBD makes you high. On the contrary, it helps to stabilise your brain and focus. I also experimented with the UrthLeaf CBD Hemp Oil Tincture in 900mg by adding it to my pre-workout protein shake consisting of blueberries, milk, protein powder and a banana. I had the protein shake two hour's before going to the gym and I must admit that the CBD Oil really helped with the focus aspect at the gym and really improved my endurance, especially when it came to the cardio and weights training. The neutral taste of UrthLeaf CBD Hemp Oil Tincture makes it perfect for mixing it with various foods and drinks. My personal approach is to consume weaker CBD oil orally and add higher strength CBD oil to foods and drinks. On the company's website, UrthLeaf state that they only use non-genetically modified industrial hemp from a select few CBD farms. I think that this claim really goes hand-in-glove with their earthy and nature-inspired branding.
UrthLeaf CBD Gel Capsules 900mg
I never quite understood the concept of consuming CBD Gel Capsules until I spilled CBD oil all over my iphone whilst I was taking some CBD oil whilst on the move. UrthLeaf CBD Gel Capsules 900mg offer the convenience of consuming CBD oil whilst on the move. Likewise, I came to realise that UrthLeaf CBD Gel Capsules 900mg may also help with reputational risk management. Uninformed people may be skeptical about one consuming CBD oil from a pipette and UrthLeaf CBD Gel Capsules 900mg definitely offer more discretion for consuming CBD in public places or even at the workplace. I decided to have a few CBD Gel Capsules whilst I was on a long Underground journey in London. Naturally, I was a bit tensed and stressed out after a long day at the office and the hustle and bustle in the city. I downed 2 CBD capsules with some tasty fizzy lemonade bubble tea and after about 30 minutes, the effects of CBD began to gradually kick in. I was feeling more relaxed, composed and chilled out to the point where I was making light talk with fellow commuters. I really like the fact that UrthLeaf CBD Gel Capsules come in 900mg, a fairly high strength. It is fairly easy to adjust CBD intake with CBD oil by taking a few drops more or less. However, with CBD Gel Tablets, you would want to receive the optimum effect without having to swallow ten CBD capsules. The CBD Capsule strength is definitely on point. On UrthLeaf's website and on the label, it is stated that their CBD Capsules contain:
Fractionated Coconut Oil (MCT Medium Chain Triglycerides)
Gelatin (Gelatin Capsules)
Non GMO Sunflower Lecithin
Full Spectrum Hemp Oil
UrthLeaf CBD Hemp Healing Salve 900mg
Here is what UrthLeaf claims about their CBD Hemp Healing Salve:
UrthLeaf's top selling, topical salve is crafted by extracting full spectrum, CBD-rich, hemp oil and infusing it with organic lavender flower oil, organic coconut oil, vitamin E, and organic beeswax. These simple ingredients create a powerful salve that is packed with anti-inflammatory properties to help treat all of your aches, pains, and sore muscles. We also like to use our salve on cuts, wounds, dry skin, and eczema! For faster, targeted relief, simply massage a small amount into affected area.
Overall, this sums up the UrthLeaf CBD Hemp Healing Salve extremely well. Over a year ago, I have developed a skin condition known as uticaria. I had done many blood tests and saw my GP on multiple occasions, but the exact cause of my allergy was unknown. I was told that it could be anything from stress to my body's intolerance to humid British weather. I was therefore left to take Loratadine anti-allergy tablets. If I failed to take the tablets every morning, my body parts would all of a sudden begin to turn red and I would develop a rash. It is very annoying to be living with such a condition. I immediately tried UrthLeaf CBD Hemp Healing Salve on affected skin areas and the rash went away in about 5 minutes. However, what I have noticed is that by using UrthLeaf CBD Hemp Healing Salve, CBD Hemp Oil and the CBD Bath Bomb, my condition has become to recede. The total number of allergey occurences has declined and even if I do not take my anti-allergy tablets, I can easily get by for a day or two. This is very encouraging and definitely goes to show that CBD has a lot of potential in helping to treat and alleviate skin conditions and allergies.
I was not planning of using UrthLeaf CBD Hemp Healing Salve for anything other than helping to treat my allergy and dry skin, but after one month of being away from the gym, I decided to go back to my normal bench-press weight only to sustain a back injury. Basically, I could not lift up the bar back up, it landed on my belly and I tried to push it off me using my back. I did not realise that at the time, but I had sprained my lower back and I was in a lot of pain after the workout. I applied copious amounts of UrthLeaf CBD Hemp Healing Salve two times before going to bed and once in the morning. The results were incredible, my back pain began to subside and after 2 days it had gone away completely. This is nothing short of a miracle because such back pains take at least 2 weeks to heal. I would therefore heavily recommend UrthLeaf CBD Hemp Healing Salve for anyone suffering from gym injuries and allergies or skin conditions. The smell of UrthLeaf CBD Hemp Healing Salve is extremely pleasant and sophisticated and has no tell-tell signs that you are using a hemp or CBD product. I was very surprised that the smell of this UrthLeaf CBD Hemp Healing Salve is very gentle, rustic and reminds me of a trip to a beautiful garden from one of the Victorian Novels! Usually, similar salves have a very pungent and not entirely pleasant smell. UrthLeaf CBD Hemp Healing Salve also works great as body cream and is a great replacement for perfume.
UrthLeaf Eucalyptus CBD Bath Bomb 50mg
I am generally more of a shower person and due to my busy routine, I do not have the time for taking a full-blown bath with soap bubbles and nostalgic yellow rubber ducks. I finally caved into taking a warm bath on the weekend with some tasty bubble tea. I chucked the Eucalyptus Bath Bomb as I was filling up the bath. It began to dissolve very gradually and gave a very soothing and fresh aroma to the entire bathroom. When I got into the bath, I have noticed to feel very relaxed, calm and my skin became extremely soft and supple. After about one hour, I felt very rejuvenated and extremely relaxed. The Eucalyptus CBD Bath Bomb combines the best of both worlds by bringing CBD into cosmetics and body care products. I could definitely feel the therapeutic effects of CBD on my skin and my physical and mental state. My skin felt younger and my body just felt relaxed. This CBD bath bomb helped me to get a very good night's sleep and helped to reinvigorate my entire body. I definitely felt very positive results the entire week.
UrthLeaf CBD Vape Pen 200mg
I do enjoy a good vape and have tried all types of vape e-liquids from the UK, Malaysia and USA. I like to vape all my e-juices in 3mg nicotine. I find that nicotine makes me feel very agitated and pepped up. I have only vape CBD oil once or twice before. I remember that I had some issues with vaping CBD eliquid on my Uwell and Vopoo vape tanks as they were not very friendly to CBD eliquid. One thing that I really like about the UrthLeaf CBD Vape Pen is that it comes with a battery and a pre-filled CBD cartridge meaning that I do not have to waste any time in shopping for a vape tank and suitable cartridges. There is also no issue to getting the wattage right to get a good vape out of CBD eliquid. Starting off with the appearances, UrthLeaf CBD Vape Pen is very sleek and holds a very luxury appearance. The vape pen's battery comes in a sleek steel finish and the cartridge is made from glass and not plastic, which really helps to keep all the nasties out and keeps the CBD eliquid pure and unadulterated. The vape is extremely smooth. In the past, I had instances of CBD oil tasting burnt or "not right". This is something that kept me away from vaping CBD. UrthLeaf definitely do all the heavy lifting my providing a CBD vape pen that is actually configured to vape CBD. You do not have to meddle with any complex settings or controls. All you have to do is take a draw and enjoy. The vape is very smooth and natural. I recommend this CBD vape pen for anyone looking for instant relaxation. CBD oil and capsules take a bit longer to come into effect through ingestion. On the contrary, vaping CBD has a near-immediate effect.
UrthLeaf CBD Products: Final Verdict
During this CBD review, I have discovered that the quality of the CBD products and the claims by UrthLeaf are backed up by their superior quality. At large, UrthLeaf is definitely one of the very best organic CBD brands that I have tasted. The organic theme runs across through the branding and all the way to the quality of UrthLeaf's CBD products. I found UrthLeaf's CBD products to be very effective with relieving stress, anxiety, muscular pain, back pain, skins conditions and allergies. However, you do not have to have a condition to take CBD. I find CBD to be a very good way to chillax with some chillout music in the background. I would like to especially recommend UrthLeaf to those people who are looking for a more subtle hemp and CBD brand that does not exactly taste like hemp or shout cannabis! In terms of the prices, UrthLeaf CBD offers a great value for money considering that you are getting an organic product that is handcrafted from highest quality industrial hemp from a select few hemp farms!